Homemade wild garlic pesto with Parmesan, sunflower oil and sunflower seeds.
This is a repost from April 2015.
The wood is full of wild garlic. A good friend of mine who's been gathering wild garlic every spring for years now, gave me a small jar of wild garlic pesto as a present last year. It was so amazingly delicious, that this year I really wanted to gather the wild garlic and make the pesto myself. I was a bit nervous about it at first, because I remember seeing a report on TV a couple of years ago about people mistaking lilies of the valley for wild garlic and poisoning themselves this way.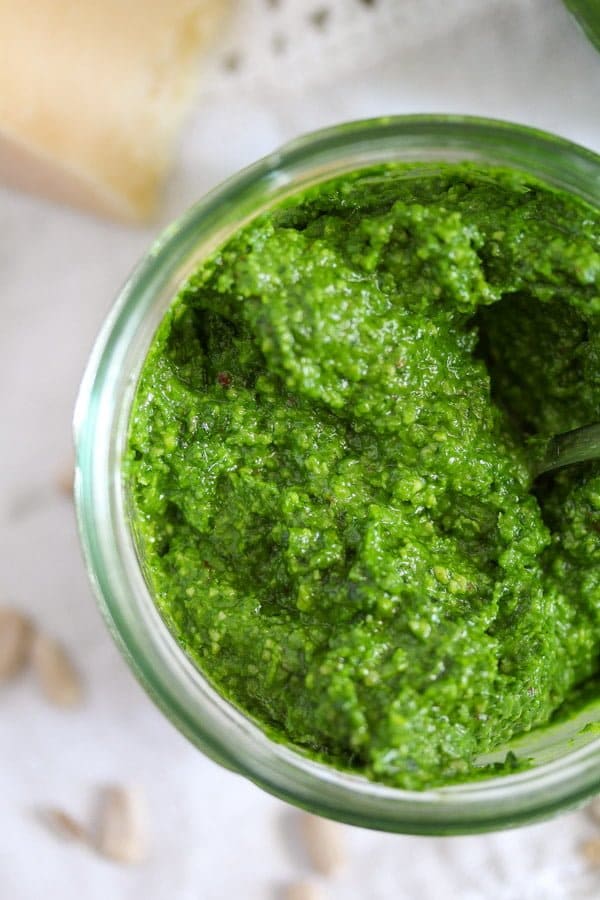 But my friend is an expert in this and she is been gathering wild garlic in the woods for such a long time now, that I decided to trust her. And she explained the differences between the two plants to me and once you know them, there is actually no way you could mistake them. Plus the smell of the woods when you get to the place where the wild garlic grows… A wood smelling of garlic is definitely an experience worth having.
Anyway, we did gather a lot of wild garlic on Friday and then, on Saturday, I spent all morning making lots of pesto and a wild garlic paste to use as a condiment in other dishes. Plus some Green Wild Garlic Crepes and this amazing Vegan Wild Garlic Sunflower Spread, which I also give to small jars and freeze. And because I still had a handful of it left in the end and it was time for lunch anyway, I even made a wild garlic potato soup which was fabulous.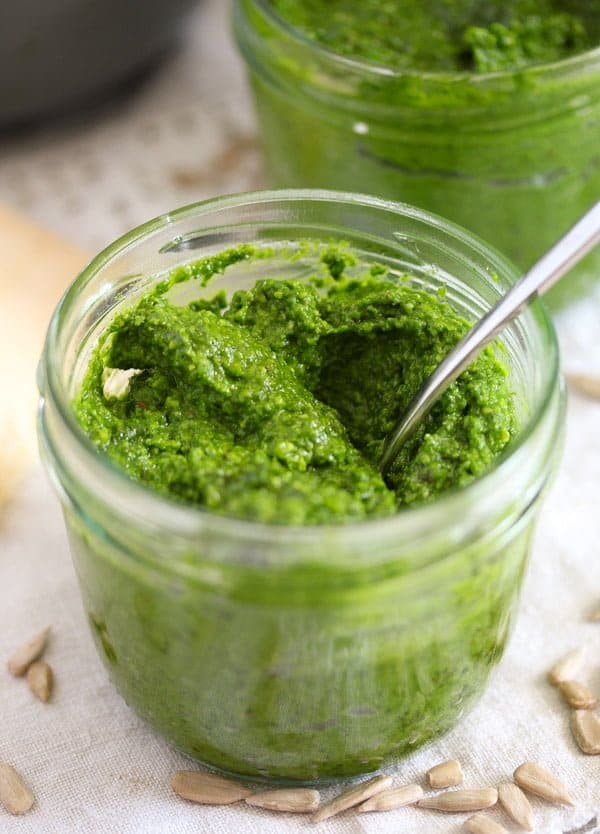 What is wild garlic?
Allium ursinum also known as wild garlic, ramsons, buckrams, bear's garlic, bear leek or wood garlic is a relative to chives, native to Europe and Asia. It is widespread across most of Europe and has a short season in spring, from April to June, depending on where in Europe you are. In Germany, now is the time to go out and look for it.
Wild garlic also grows throughout North America, in the Eastern half of the United States and on the West coast.
Health Benefits of Wild Garlic
The essential oils in wild garlic have a positive influence on digestion, respiratory tract, liver, gall bladder, intestines and stomach. It also stimulates the metabolism and lowers the bad cholesterol levels. All the more reasons to gather and eat the wild garlic when you have the possibility.
According to organicfacts.net wild garlic can improve the heart health as "it has a soothing effect on high blood pressure" and is able "to lower overall cholesterol levels".
Wild garlic can also improve stomach issues helping "to re-balance the bacterial flora in your gut, which can soothe inflammation, bloating, cramping, constipation, and other stomach issues".
Other component of wild garlic can also neutralize free radical activity, thus helping to lower the risk of cancer and other chronic diseases, for instance heart disease or arthritis.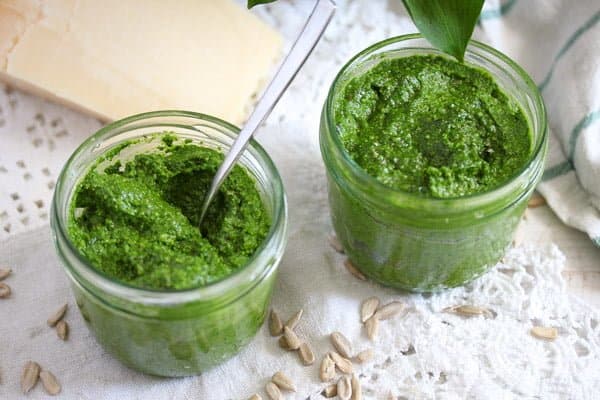 Wild Garlic Pesto with Parmesan, Sunflower Oil and Seeds
The quantities given in the recipe below are enough for a small batch of pesto, about 4 small jars. I made the double amount and stored everything in the freezer. It will keep in the fridge for at least two weeks as well, if you keep the pesto well covered with oil.
Making the Wild Garlic Pesto with Parmesan, Sunflower Oil and Seeds is a very quick and easy affair, the only part that was a bit annoying was the washing and especially the drying of the leaves.
The quantities given are not mandatory. Add more or less sunflower seeds, Parmesan or salt according to your taste. The first batch I made contained more sunflower seeds and I found the final product to be a bit stiff. It tasted amazing but as I found it too stiff, I used less sunflower seeds when I made the second batch. It was still amazing in the end, just a little bit softer.
I mentioned 30 minutes as preparation time only because of the time needed to thoroughly wash the wild garlic leaves, I wash every single one with hot water, rubbing it gently with the fingers on both sides. I spread some large clean towels on the table and place the washed leaves on top, patting them dry with other towels once I have washed them all. The actual time needed to make the pesto is much shorter, if you have a good food processor, you will be done in 5 minutes.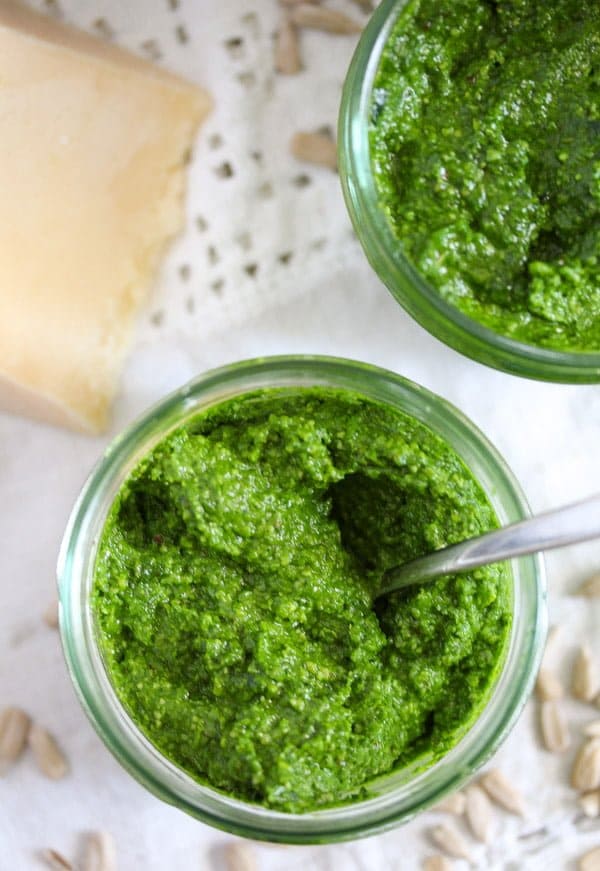 How to use up a jar of pesto?
We eat a lot of pesto, always homemade. Every year I make a batch of this Wild Garlic Pesto with Parmesan, Sunflower Oil and Seeds, then another batch of wild garlic pesto with almonds, a batch of Mint Pistachio Pesto  and maybe another one or two other pesto sorts that I don't make so regularly, something like parsley or basil pesto.
I freeze the jars, so that we have delicious homemade pesto all through the year. I usually defrost a jar when my daughter wishes me to make her beloved Zucchini Feta Pancakes with Herbs or Spätzle with pesto. But when I cook those dishes I really don't need a whole jar, a little pesto really goes a long way, so I often have an open jar of pesto in the fridge.
My favorite way of enjoying those rests is to smear some pesto on dark rye bread and top it with Camembert or a slice of cheddar and some sliced tomatoes.
Other ways of using up pesto is, of course, mixing it with regular noodles. When eating this with pasta make sure you keep about a cup of the noodles' cooking water. You can then mix the pasta with the pesto and thin the sauce with the reserved water according to your taste. Another way of enjoying it with pasta is to mix it with a little cream cheese, both my children love that.
I have also eaten this pesto with potatoes, cook potatoes as you would for a salad, slice them while still hot and mix them with pesto. So good, a perfect side for some chicken or fish or a main meal with salad on the side.
I also like to stir some pesto in eggs and make omelet and I often add it to salad dressings. You can mix it with feta or cream cheese and make a delicious bread spread, you can use it to spice up soups or stews, you can smear it on tortillas, top with some veggies or cooked chicken and some cheese. You can make pancakes, bread or rolls.
And here are some more ideas for using up a jar of pesto:
Or one of my favorite recipes including pesto, my own pesto and not necessarily the one mentioned in the recipe: Jamie Oliver's Tagliatelle, Genovese-Style. So good, before eating this dish it had never occurred to me that you could actually combine pasta and potatoes, but again, soooo gooood!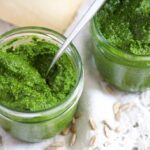 Ingredients
300 g/ 10.6 oz wild garlic, stalks removed

100 g/ 3.5 oz/ about 1 ½ cups sunflower seeds

100 g/ 3.5 oz/ 1 cup Parmesan

200 ml/ 6.7 fl.oz/ scant 1 cup sunflower oil + more for pouring into the filled glasses

1 teaspoons fine sea salt, add more if necessary
Instructions
Wash and dry the wild garlic very thoroughly. Chop the leaves and place them in the food processor (I used my Thermomix to make this). Turn this to a rough paste, add the rest of the ingredients and process everything to obtain a smooth paste.
Give the pesto to small jars, pressing well with a teaspoon to avoid air holes. Pour some extra sunflower oil on top to cover the pesto with a thin layer of it. Place the lids on the jars, but don't screw them too tightly if you intend to freeze the pesto.
You can keep the pesto in the fridge, covered with the thin layer of oil, for at least 2 weeks. To keep it longer, place it in the freezer.
This post might contain affiliate links. The price you pay as a consumer does not change, but if you make a purchase we will receive a commission which helps support the blog.